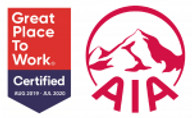 Technical Architect (C#, .NET, Java)
4 days ago
Apply Now
Apply Without CV
Job Description
Report to: Senior Manger, Technical Solution Architect
Objective:
Understand user requirements from Business Analyst and high level solutions from Solution Architect to create detail design, implement and guide out sourcing team to complete tasks.
Job Responsibilities
Identify and understand company needs to implement suitable technical solutions.

Plan and design the implementation structure.

Explain and communicate system requirements to software development teams

Assess and select appropriate software or hardware to suggest integration methods

Oversee assigned programs (e.g. conduct code review) and provide guidance to team members

Assist with solving technical problems when they arise

Ensure the progress of implementing agreed architecture and infrastructure

Address technical concerns, ideas and suggestions

Monitor systems to ensure they meet both user's needs and business goals
Job Requirements
BSc/BA in Computer Science, Engineering or a related field

At least 5 years of experience in IT area, 3 years experience in Team Lead or Technical Architect role.

Hands-on experience with software development and system administration

Understanding of strategic IT solutions

Experience in project management, service-oriented architecture (SOA) and Micro-services

Knowledge of selected coding languages: Java, C#, HTML/CSS, JavaScript

Familiarity with various operating systems (Linux, Windows) and databases (MSSQL, Oracle)

Experience in cloud technologies (AWS, Azure)

Excellent communication skills. Good at English skills.

Problem-solving aptitude with business awareness

Organizational and leadership skills

Good time management, communication and team work skills

Broad knowledge of hardware, software and programming

Good interpersonal and client-handling skills, with the ability to manage expectations and explain technical detail

Life insurance knowledge is an advantage.
Location

Quận 1, Hồ Chí Minh
Level

Nhân viên
Year of Experience

5 năm
Benefits
Salary will be commensurate with qualifications and experience
Social insurance, health insurance, unemployment insurance according to Labor Laws. Medical cover & annual health check-up.
Extra holidays
AIA Insurance products and Pension product
Working hours (From Monday and Friday)
Good chance to study and develop career path stably