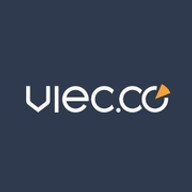 CẦN NGƯỜI LÀM VIỆC.CÓ NGAY
Viec.Co is an HR-Tech startup company, a platform connecting employers and freelancers. Viec.Co aims to change the way most people work in the future by offering flexible on-demand job styles, helping millions of blue-collar workers having jobs and improving their life.

Founded in late 2018, Viec.Co quickly delivered its service to many major e-commerce companies, such as Tiki, Ninja Van, Giaohangnhanh,... our workers help those companies tackle the year-end sales season.

In 2019, we were proud to successfully fund-raised in SharkTank Vietnam and be entitled #1 in StartupViet Contest held by VnExpress.

To share our dream, we would like to invite any passionate and talented engineer to join our team. Our tech-mentors will try the best to give you an exceptional experience for your career.
Benefits
Review sau 6 tháng
Các chế độ bảo hiểm.
Stock option.
Môi trường startup vui, hết mình, nhiều cơ hội để học hỏi và thử nghiệm cái mới.