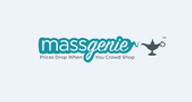 MassGenie Asia
MassGenie ra đời dựa trên ý tưởng Sức mạnh mua bán theo đám đông (Mass)
MassGenie ra đời dựa trên ý tưởng Sức mạnh mua bán theo đám đông (Mass)
Người mua ước muốn như có ngọn đèn thần (Genie) trong tay để hàng ngày thỏa sức mua sắm với giá rẻ hơn, còn người bán có thể bán hàng với số lượng lớn hơn, giới thiệu được nhiều sản phẩm hơn tới người mua.
Sức mạnh mua bán (power buy) được thực hiện tự động tới các đám đông thông qua các hệ thống social media, affiliate, ... để kết nối người mua có cùng nhu cầu, sở thích, đam mê, .. với nhau.
Bắt đầu từ tháng 8/2015 với gần 10 người nhiệt huyết, đam mê, chúng tôi đã đưa ra một lộ trình rõ ràng, cụ thể.
Sau khi đăng ký thành công sở hữu trí tuệ, chúng tôi đã phát triển sản phẩm và kêu gọi đầu tư thành công. Việc kinh doanh trên platform bước đầu thành công với doanh thu dự kiến năm 2018 là 5 triệu USD, và dự kiến năm 2019 là 32.5 triệu USD
Hiện tại MassGenie có đội ngũ nhân viên đông đảo thuộc 3 nước: Mỹ, Philippines và Việt nam.
More jobs at MassGenie Asia
Benefits
Bonus for every quarter
Sick days / paid vacation
Will pay 50 - 100% of education courses related to the job
Vacation 1 - 2 times / year
An energetic, friendly, casual work environment.
Travel abroad for business trips, training courses (like Amazon web service event)