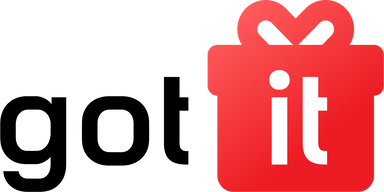 Got It
DIGITAL GIFTING & REWARDING SOLUTIONS
Got It
DIGITAL GIFTING & REWARDING SOLUTIONS
About us
Got It is the original mobile e-voucher management platform in Vietnam. We combine amazing people, creativity, solution based thinking and technological innovation to meet our clients and end-users needs.
Got It is the preferred gifting/loyalty and rewards platform for many of Vietnam's largest corporations. Got It digital vouchers are accepted at over 180 famous brands and in more than 20,000 locations nationwide.
Got It will launch our latest innovation in the 2nd quarter 2022, welcome Scan It a standalone platform built utilizing AI and EKYC solutions. Scan It will open an incredible number of opportunities which compliment our core products, this is one of three new launch products for 2022…exciting times ahead!
In addition Got It is introducing a new channel for gifting, focused on P2P (person to person) gifting.
This is a very exciting next step for Got It and it opens many new opportunities, thanks to our investment partner VNG (Zalo, Zalo Pay).
Our continued growth means it is time to expand the team. We seek the following role and we invite positive, honest, hardworking, team and results oriented people to come join us as we continue our journey.
Benefits
Attractive Salary and Benefits
Bao Viet Healthcare insurance.
Good chance to study and develop career path stably.
Quality work environment, flexibility, being innovative and rewarded for efforts.
You will be able to join our ESOP (Employee Stock Option Program) allowing you to financially share in our future success.
Flexible working hours (From Monday and Friday).
General information
---
Industry
Dịch vụ doanh nghiệp
Nationality
Vietnam
Contact information
---
Office address
9-11 Nguyễn Văn Thủ, Phường Đa Kao, Quận 1, Thành phố Hồ Chí Minh