Throughout more than 10 years, Vietnam Mobile Day has become the most popular playground & the largest mobile event for all Mobile-related businesses & individuals to update the latest mobile trends & knowledge to facilitate, utilize & monetize mobile businesses.
AGENDA HA NOI (EXPECTED)
16.06.2023
Vietnam Mobile Day 2023 would like to send to the expected agenda of Ha Noi area on 16.06.2023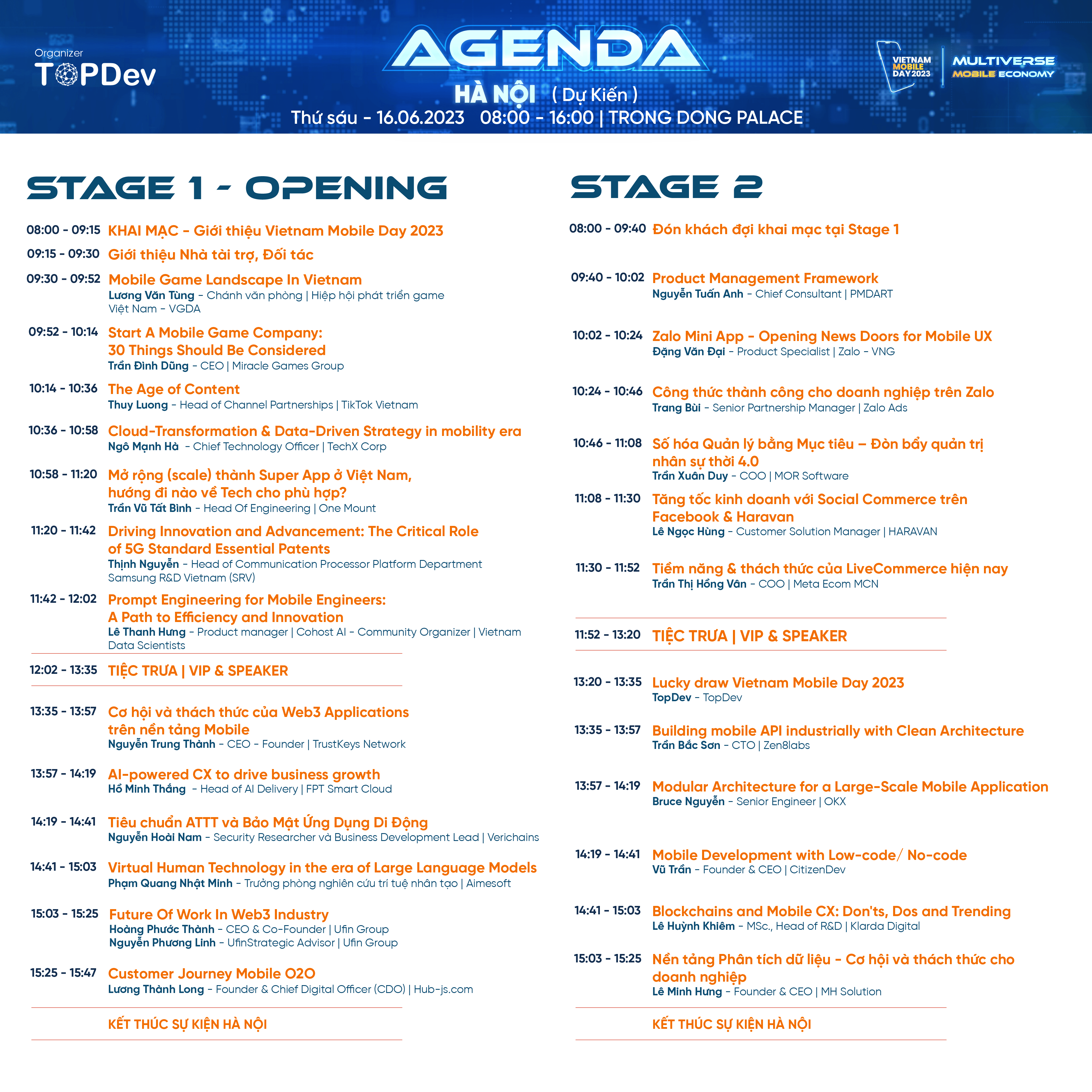 Only valid until – 09.06.2023
LUCKY DRAW now to receive:
Enter LUCKY@VMD2023 to get Discount code 60.000VND for Access & Standard Pass
Have the opportunity to receive attractive gifts

Founded in 2015 by Applancer JSC, TopDev has become Top IT Recruitment platform in Vietnam with IT-focused hundred thoudsands monhtly traffic website https://topdev.vn & IT Jobs Search Mobile Application, 350,000+ Developer profiles & managed the largest Developers Community in Vietnam with 550,000+ IT Followers on Social Media.
TopDev is the organizer of 02 largest annual Tech events: Vietnam Mobile Day & Vietnam Web Summit with the scale of thousand attendees in HCMC & Hanoi. With the expertise & insights in attracting and engaging with Tech community & Developers through both offline & online activities, social media/ blog/ website…, TopDev has become Top IT agency in Vietnam that helps build Employer Brand for hundreds of IT and Tech companies in Vietnam. Moreover, to support & orient the IT Recruitment market in Vietnam, since 2016 annually TopDev has published Vietnam IT Market Reports & HR Reports with the trust & verification of many businesses, organizations & governments.
Mr. Minh Pham
Event Team Leader
minh.pham@topdev.vn
0933.331.604
Ms. Tuyen Tong
Account & Partnership
tuyen.tong@topdev.vn
0787.544.846
Ms. Nhu Truong
COO
nhu@topdev.vn
For Ticket & General Information​​