3

IT

Software Architect

In Total

#HackerRank

#JavaScript

#Python

#Java

#C/C++

#PHP

#Swift

#C-Sharp

#Ruby

#Objective-C

#GoLang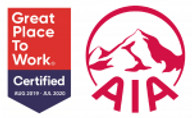 HOT

Solution Architect (Java, C#, .NET)
AIA Vietnam
Quận 1, Quận 1 - Hồ Chí Minh
The solution architect's job focuses on solution-level decisions and analysis of their impact on the overall business goals and outcomes Finding th...
Salary will be commensurate with qualifications and experience
Social insurance, health insurance, unemployment insurance according to Labor Laws. Medical cover &...
Extra holidays
2 days ago
IT - Software Architect/Technical Lead
NGÂN HÀNG Á CHÂU (ACB)
Quận 3, Hồ Chí Minh
Ngân Hàng
We are looking for an experienced software architect who is responsible for proposing software architecture aligned with enterprise architecture. The...
Thưởng. Tăng lương. Phụ cấp thâm niên.
Bảo hiểm. Chăm sóc sức khỏe.
Máy tính xách tay.
3 days ago

Technical Solution Architect
MEMBERSON
Quận Tân Bình, Hồ Chí Minh
Phần Mềm
Our software development is technically challenging, and the position would only suit those with strong passion in software development and complex te...
Bonus 13th salary
Opportunity working onsite in Singapore and other more benefits
Support free parking
4 days ago
Job suggestions