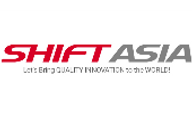 Shift Asia Vietnam
SHIFT ASIA - Sự kết hợp tuyệt vời giữa Chất lượng Nhật Bản và sức mạnh Châu Á.
(HCM) [HOT] Test Designer (Japanese ~N2) - Up to $2,500 + Attractive Benefits
3 months ago
Apply Now
Apply Without CV
Job Description
*** Mô tả công việc:
Giao tiếp với khách hàng Nhật để nắm rõ yêu cầu dự án.
Phân tích yêu cầu của khách hàng, thiết kế test case tối ưu theo phương thức của SHIFT Nhật.
Phân chia công việc, hỗ trợ và quản lý nhóm.
Job Requirements
*** Yêu cầu:
Khả năng tiếng Nhật tương đương N2.
Có kinh nghiệm làm việc trong các dự án phần mềm với đối tác Nhật ở các vị trí: QA/QC, Tester, Developer, Project Manager, BrSE...
Có kinh nghiệm viết Test case, có kiến thức về SQL, về Software Testing.
Kỹ năng mềm về quản lý dự án và quản lý con người như giải quyết vấn đề, đàm phán, thương lượng, lập kế hoạch, báo cáo...
Hòa đồng, thân thiện, cởi mở, hoạt bát.
Tiếng Anh giao tiếp.
*** Phúc lợi:
Mức lương hấp dẫn lên tới $2,500.
Thưởng nhân viên suất sắc hàng quý và hàng năm.
Review lương 2 lần 1 năm.
Lương tháng 13.
Cơ hội công tác Nhật Bản.
Công ty mua lại ngày phép không sử dụng hết vào mỗi cuối năm.
Du lịch công ty hàng năm.
Kiểm tra sức khỏe định kỳ hàng năm.
Bảo hiểm chăm sóc sức khỏe toàn diện 24/7.
Nghỉ phép, nghỉ lễ theo đúng quy định của nhà nước, ngoài ra còn được nghỉ thêm 4 ngày.
Hỗ trợ chi phí cho các câu lạc bộ thể thao, ăn uống bên ngoài công ty.
Location

Quận 1, Hồ Chí Minh
Benefits
Performance review and adjust salary twice a year and 13th salary.
Heath Care Insurance. Health Checkup yearly.
10 public holidays, 12 annual leave days by Vietnam Government regulations. 4 additional holidays by Japan calendar. Pay for unused annual leaves.
Opportunity to work in Japan.
Company Trip every summer.
Quarterly and Yearly Awards for excellent employees.
Support fee for outdoor activities such as sports, drinking