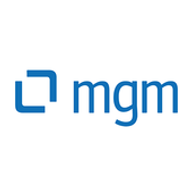 mgm - Software Engineers to the bones
We code for Fortune 100 customers and have fun while doing so
If you share our passion for software development – mgm is just right for you: mgm in a nutshell:
Great Team: More than 700 colleagues working in an environment with flat hierarchies and endless learning opportunities.
Exciting Projects: We build enterprise software in different teams (5-30 members) reaching from agile to long-term projects.
Innovative Technologies: Java, JEE, Spring, React, TypeScript and many more...
mgm's software solutions: mgm A12 (architecture and tools for model driven software development) and mgm Cosmo (insurance solution).
Benefits
Good salary and a bonus if things work well
Premium insurance for you and your spouse (husband or wife)
Highly professional equipment (own laptop, 2-3 screens, adjustable desks)
Free in-house entertainment facilities (darts, piano, climbing wall), drinks (coffee, beer, soft drinks,…) and food (cookies, fruit,…)
16 days off allowance per year (on top of public holidays like Tet)
Intense English course for the first 3 months by our native English teachers
An all-expenses-paid company trip once a year, month-end with the whole company
Flexible working time (40h/week)