Evolution with Love
EVOL GROUP là viết tắt từ Evolution, nghĩa là sự thay đổi, phát triển dần dần theo thời gian. EVOL cũng là cách chơi chữ (viết ngược) của từ LOVE - yêu thương - một phần quan trọng trong văn hóa của chúng tôi. Hiện tại, sau hơn 11 năm hoạt động, EVOL GROUP có tổng cộng 8 công ty thành viên hoạt động ở nhiều lĩnh vực khác nhau, chủ yếu là Đào tạo và Sản phẩm Phần mềm.
Mặc dù đã hoạt động hơn 11 năm, EVOL vẫn gìn giữ phong cách hoạt động và văn hóa của một công ty khởi nghiệp với tinh thần "mãi mãi một startup". Mỗi thành viên đều được xem là một tài sản rất giá trị. Mỗi thành viên đều có những trách nhiệm lớn hơn và từ đó có những ảnh hưởng lớn hơn đến toàn công ty. Đồng thời, mỗi thành viên cũng sẽ có nhiều cơ hội hơn để tỏa sáng, đều có thu nhập tốt hơn nhờ vào phương châm "ít người – hiệu quả cao – thu nhập tốt". Đặc biệt, mỗi thành viên cũng có cơ hội được chia sẻ những thành công lớn hơn thông qua các chương trình bán hoặc tặng cổ phần chỉ dành cho nội bộ. Vì quan trọng nhất, chúng tôi mong muốn xây dựng một nơi mà tất cả đều muốn gắn bó để xây dựng và xem như gia đình thứ hai của mình.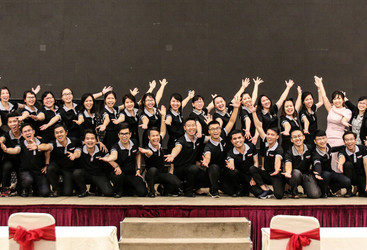 Benefits
Salary range: $800-$1600, depending on your qualifications and experience.
Laptop provided.
At least 2 weeks off for Lunar New Year (full salary).
The company purchased private health insurance packages, compensation up to 400 million (for employees working over 1 year).
Take an annual vacation with the company or choose to take a vacation by yourself (full salary).
Working in an environment that respects your differences and personality. Your colleagues are people who possess a positive attitude and a great mindset. They will be your inspirational companions on your career path.
Participate in TGM NEXT's courses completely free of charge according to the Internal Learning Fund policy.
Receive books from TGM BOOKS whenever the company publishes a new book.
Can work remotely 2 days a week.
Working from Monday - Friday (Only 7 hours/day: from 10:00 to 18:30 with 1.5 hours of lunch break, or flexible change according to individual needs).
And many other great benefits…